KIOXIA Group considers that our most important mission is to provide our customers with safe and reliable products, and as such we are always striving to improve quality. In addition, we make sure to disclose product safety, security response, and quality information to customers.
KIOXIA Group Comprehensive Quality Assurance Policy
In accordance with the basic commitment of KIOXIA to enrich the lives of people and broaden their opportunities by continuing to develop advanced memory technology and services, our policy is to provide products of high quality that are safe and constantly refined in line with customer requirements by means of creative techniques and the continuous pursuit of value.
We comply with all relevant laws and provide quality and reliable products that match customer requirements.
We perform quality manufacturing in a mass production environment from the design & development stage and work to improve product security, to consider the environment, and to maintain high technical standards.
We aim for consistent improvement by pursuing root causes and continually improving our quality management systems.
Standards of Conduct During Quality Assurance
We engage in quality assurance from the customers' point of view.
We observe relevant laws and contracts and respect the rights of customers and third parties.
We deploy quality control systems aimed at achieving 100% quality.
We ensure that all of our departments and employees follow our quality control policies.
We aim for constant improvement by investigating the root causes of process failures and conduct through risk analysis in order to prevent any re-occurrence.
We collect, analyze and appropriately disclose information with the aim of preventing quality issues.
Standard of Conduct regarding Product Safety and Product Security
We observe both Japanese and overseas laws and regulations governing product safety and product security.
We collect, and proactively disclose, a wide range of information about any product issues.
We immediately report any product issues to the authorities concerned in accordance with relevant laws and regulations.
We promptly inform customers when the need to recall and repair products arises.
We appropriately urge caution and display warnings when deemed necessary in order to help people use our products in a safe manner.
If an accident should occur, we carry out a thorough analysis of the causes and take necessary measures to prevent it from recurring. We also strive to prevent accidents by predicting risk at the design stage.
We strive to eliminate vulnerabilities from products prior to shipment.
We collect a wide range of information on product vulnerabilities in order to reduce risk.
We implement product security measures on a broad scale in cooperation with the relevant organizations.
Structure Promoting Quality Control
KIOXIA Group has implemented a structure aimed at strengthening our quality-control activities. Led by our CEO, a quality control meeting is held twice a year in which our Quality Executive, Vice Presidents, Technology Executives, General Managers, and Senior Managers participate and where they discuss and decide on key issues of quality policy. The participants also evaluate the appropriateness and validity of quality management and risk measures. We communicate decisions made during these meetings to business divisions and ensure that they are actioned.
Structure of Promoting Quality Control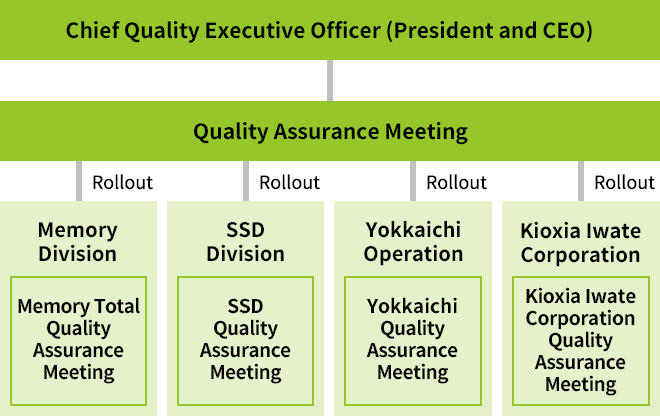 Structure of Response to Product Issues
Information on issues involving KIOXIA products in the market is collated by the KIOXIA CEO, who is also the Chief Quality Executive Officer, or Quality Executive, through what we call CPL1 Incident Response Liaison. We then take necessary action after consultation with our QS2 Risk Committee.
No serious quality incidents occurred in FY2020.
CPL is an abbreviation combining CL (contractual liability) and PL (product liability).
Quality and Safety.
Structure of our Response to Product Issues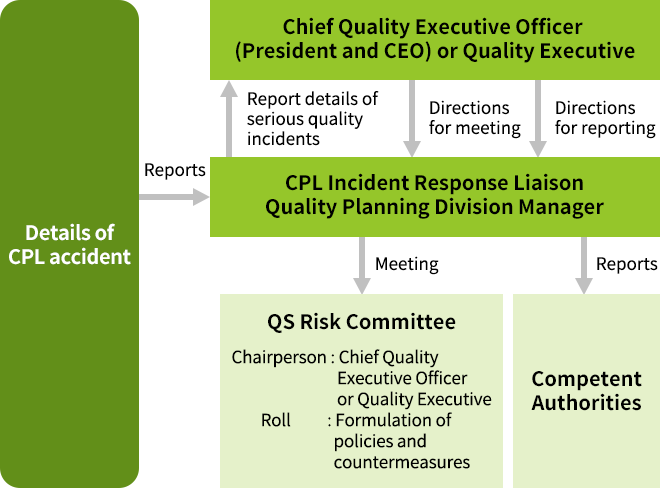 Improving the Quality Management System (QMS)
KIOXIA Group has obtained ISO9001 certification, the basis of all quality management systems, and ISO/TS16949, a more advanced certification. Rather than merely assessing whether our products meet the requirements of these standards, we also endeavor to improve their overall effectiveness. We evaluate our products annually based on the eight QMS principles and other guidelines.
In order to enhance our ability to ensure product quality at the design stage, KIOXIA Group conducts Failure Mode and Effects Analysis (FMEA) in order to prevent defects from reaching upstream.
The aim of this activity is to enhance quality by anticipating failures or defects, called failure modes, targeting product design and processes in the later stages of development. We implement practical education to broaden the base of FMEA activities which is leading to better FMEA processes.
Disclosure of Information on Quality
KIOXIA Group discloses quality information on its website.
Quality Guidelines
Reliability Handbook
Handling Precautions and Requests
List of Abbreviations