KIOXIA Group encourages all of our employees to make use of their individual capabilities; we have accordingly established fair evaluation processes, seeking to develop and maximize the potential of our diverse human resources.
Fair Evaluation and Talent Development Policies
For KIOXIA Group to thrive in the face of global competition, we need energetic, creative people. We are accordingly strengthening our training processes in order to develop talent, allowing each of our employees to utilize their abilities to the fullest.
Enhancement and Promotion of Training Measures
Kioxia Corporation has established a Training and Development Committee, chaired by the president, which proposes initiatives for the improvement of in-house personnel training and development based on program results. This committee deliberates policies for the following fiscal year on the basis of our business plan. The outcome of discussions by the Training and Development Committee are reflected in new training and development measures.
KIOXIA Group implements a variety of training programs that help create a common ground of understanding among employees, including programs based on the requirements of each career level. Furthermore, we provide tools to support self-development, encouraging employees to voluntarily acquire fresh knowledge and skills.
| | |
| --- | --- |
| Basic Training and Development*1 | A program designed to familiarize employees with the Kioxia Group Standards of Conduct and values that form a shared basis for all members of the KIOXIA Group, covering such areas as compliance and sustainability. The Kioxia Group Standards of Conduct are available in Japanese, English, traditional Chinese, simplified Chinese, and Korean. |
| Global Training and Development | A program that seeks to develop globally minded people who can not only perform their jobs within the scope of their own countries or regions, but also at a global level, by accepting cross-cultural differences and communicating with a wide range of stakeholders. |
| Training and Development Based on Levels of Responsibility | A program that seeks to improve the basic knowledge, skills and management capabilities of employees promoted to new positions (leaders, managers, etc.). This program also includes training aimed at continuously improving the leadership capabilities of managers, as well as education aimed at imparting at an early stage the knowledge and skills required to conduct business on a global basis. |
| Job-Specific Training and Development | This aims to equip employees with the knowledge and skills they require based on their job function and career status. |
| | A program for the select group of individuals who are candidates for managerial or leadership positions. |
| | Offers about 187 e-learning courses to encourage employees to voluntarily acquire knowledge and skills; these include managerial skills (organization, strategy, marketing, goal management and personnel evaluation, sustainability and compliance, labor affairs, mental health, customer satisfaction, and sales, careers, business skills and cultural skills), computer skills, and languages. |
*1 Basic Training and Development: as one aspect of basic training and development at KIOXIA Group, various compliance training sessions were conducted to promote understanding of the Kioxia Group Standards of Conduct. There was a 100% attendance rate among Group employees in Japan throughout FY2021.
KIOXIA Common Training Courses (FY2021)
| | | |
| --- | --- | --- |
| | | |
| | | |
| Total attendance time (hours) | | |
Company-wide Standardized Training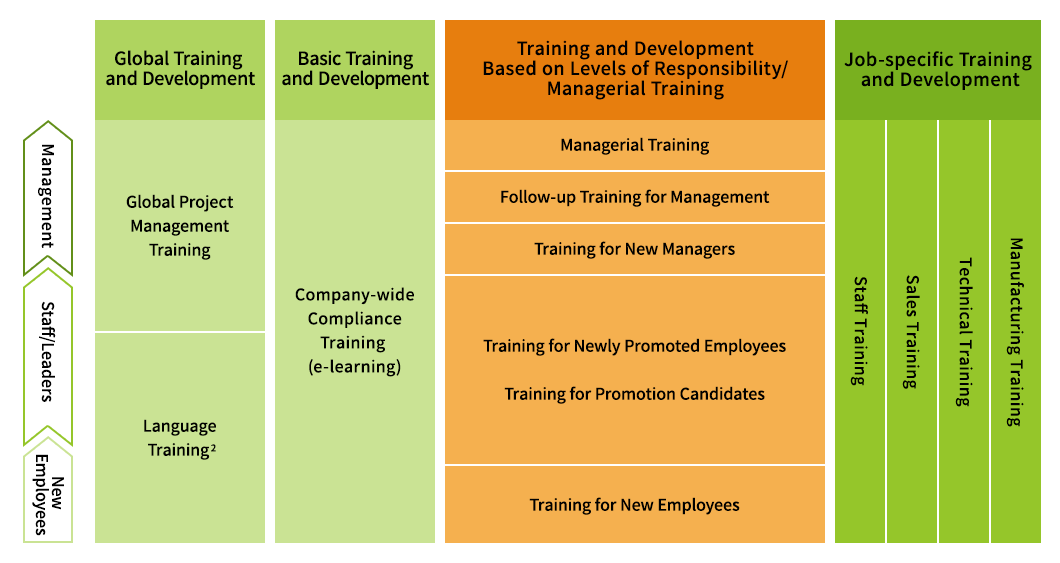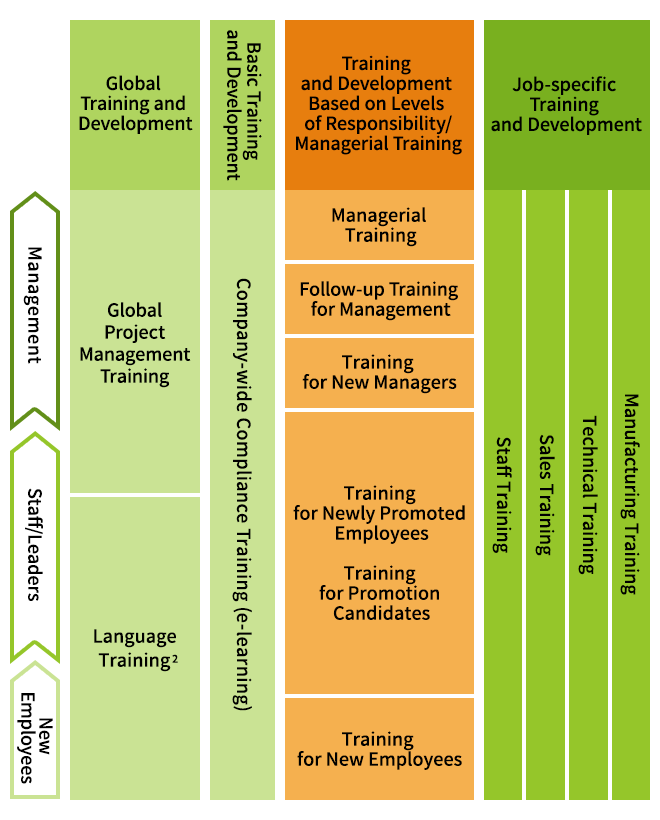 Includes self-development outside working hours, such as language study
KIOXIA Group provides a large number of diverse training programs aimed at encouraging employee self-development. For new employees, basic training programs covering electrical engineering, electronics, and semiconductors as well as manufacturing, statistics, AI, and machine learning are provided as essential steps to achieve self-growth and to enhance their technical background.
On-the-job training and a variety of education programs within each division are provided under a mentor in each workplace, with detailed instructions provided to each individual in accordance with their career status. Each workplace additionally provides a variety of technical core training for engineers responsible for development, allowing them to acquire knowledge and skills in the field of cutting-edge technologies as they learn about their work. We also provide a work environment that encourages employees to think for themselves what they need to learn and to then undertake this learning, while making the most of conversations with mentors.
Nurturing Technologies and Expertise
KIOXIA newly established the job title of "Fellow"*2 in 2019 in order to nurture the company's specialist knowledge and expertise in the field of advanced technologies. The fellows are active in a wide variety of fields: device process basic research, computer systems, simulations, and cutting-edge memory development. They are all committed to the development of semiconductor technologies and nurturing expertise among the next generation through activities at forums such as academic societies and industry groups.
*2 In April 2022, we changed from "Fellow" to "Senior Fellow".
Using Fully Fledged Career Development Systems
KIOXIA Group supports the career development of each employee in an effort to maximize their current and future job performance. The Career Design System, for example, provides each employee with an annual opportunity to discuss and share their views on their own long-term career development as well as on mid-term skill acquisition goals, the improvement of these, and ways to showcase such skills to their superiors. The Performance Management System gives each employee a semi-annual opportunity to review and discuss with their superiors their job performance over the previous six months as well as their job objectives for the following six months.
Dispatch at Overseas Universities and Research Institutes
Kioxia Group develops global leaders who are able to make full use of their capabilities across a wide range of different countries, regions and cultures, and strives to create a corporate culture that stimulates innovation.
Kioxia Corporation provides an environment in which employees have opportunities for even higher level studies at overseas universities, graduate schools and research institutes. Two examples are Massachusetts Institute of Technology and the University of California San Diego.
Employee Engagement Survey
KIOXIA Group regularly conducts surveys aimed at soliciting the opinions of employees. Each department is given feedback on the results, which are also closely examined by Executive Officers, including the President and CEO and the head of every department, and are used as a basis for the discussion of measures to enhance employee engagement.

In FY2021, we conducted an anonymous survey targeting about 13,000 employees, and received responses from 92% of them.
Annual Employee Engagement Survey Cycle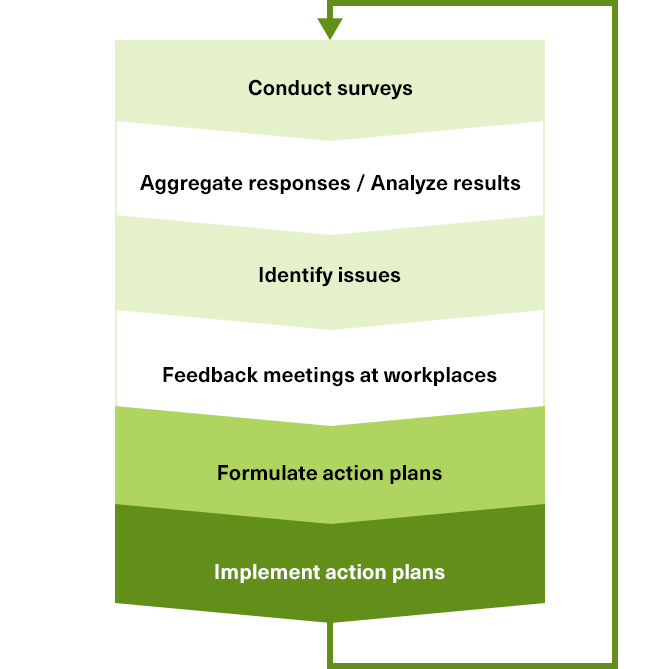 People from various backgrounds fulfill their potential and leverage their strengths at KIOXIA Group.