Sustainability Management
The KIOXIA Group promotes sustainability management aiming to enrich people's lives through our products and services and to broaden society's possibilities based on our corporate mission of "uplifting the world with 'memory.'" Through communication and collaboration with a range of stakeholders including customers, suppliers, employees and their families, we aspire to gain an understanding of issues that affect them and build relationships with them founded on trust.
Sustainability Management Organization
In order to ensure that sustainability management is integrated into our day-to-day corporate management, in July 2022 the KIOXIA Group established a new Sustainability Department dedicated to promoting sustainability.
To strengthen and further advance our sustainability management, we have created two conferencing bodies. The Sustainability Committee, with the Executive Officer in charge of sustainability as chair, comprises the heads of each of the business and corporate divisions, who come together to discuss sustainability issues. The Sustainability Strategy Meeting, chaired by the President and CEO, is where executive officers deliberate and decide on the same issues.
We have set up task forces under these conferencing bodies to engage in important sustainability issues, to report on progress and to confirm our direction.
KIOXIA Group's Sustainability Management Structure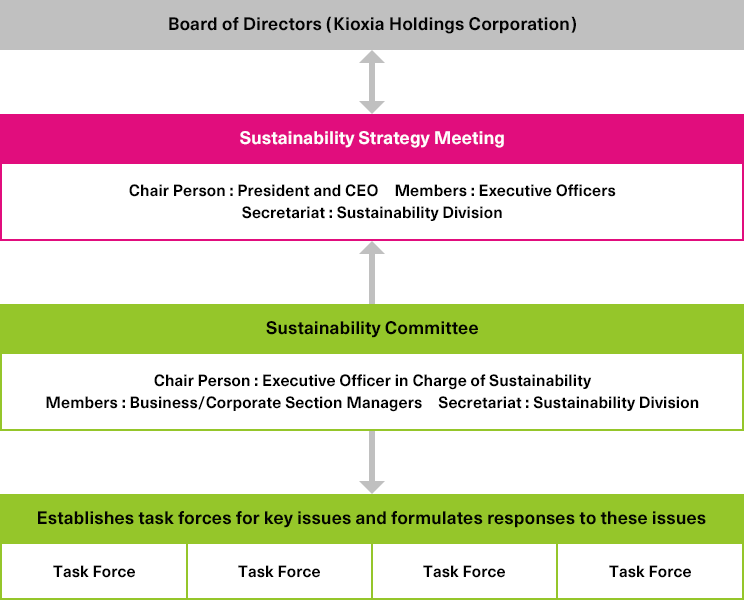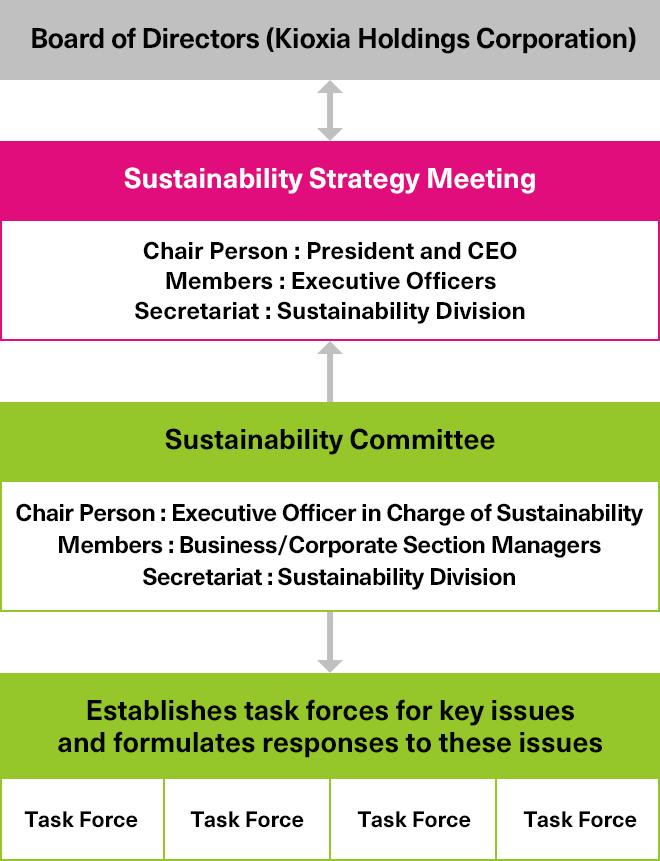 In FY2021, KIOXIA group defined the key issues that will have a material impact on our sustainability efforts; addressing these will enable us to grow in the medium term and continue to deliver value to society. 

Additionally, we discussed and agreed appropriate KPIs, which are an essential factors in our continued efforts to address these issues. We selected as priorities ten indicators that were already treated as key elements; these included the environment, diversity, and our supply chain. These were incorporated into our non-financial medium-term management plan for business integration.
Building on the indicators identified during these discussions, we are reviewing and establishing fresh KPIs for incorporation into our medium-term management plan for FY2022 and beyond.
Third-party Sustainability Certification
KIOXIA Group has acquired certification by the International Organization for Standardization (ISO) in the categories of Quality, Environment and Operational Health and Safety Management Systems, and we work to retain these certifications on an ongoing basis.

In July 2021, KIOXIA Group joined the Responsible Business Alliance (RBA). We accordingly fulfil the responsibilities specified in the RBA Code of Conduct, progressing our own sustainability activities and requiring our suppliers to do the same. We conduct sustainability surveys using the self-assessment form provided annually by RBA; our manufacturing sites voluntarily undergo third-party audits by the RBA once every two years. In the most recent audits, both Yokkaichi Plant and KIOXIA Iwate Corporation secured maximum ratings and Platinum Status, certifying the plants' labor and safety standards as well as their environmental protection measures; this additionally confirmed that the management and operation of both facilities observe the highest ethical standards.
Encouraging Employees to Adopt a Sustainability Mindset
To raise sustainability awareness across the entire KIOXIA Group, our President and CEO and other senior executives communicate our management vision and emphasize the importance of good sustainability management practices in corporate strategy meetings at the beginning of each half semester.
Sustainability-related education is also provided during training for new graduates and newly appointed executives, as well as in role-specific training for employees in sales, procurement and other departments.
In April 2022, the "KIOXIA Group Sustainability Handbook" was published, aiming to help educate employees and encourage active dialogue with stakeholders, and was distributed widely amongst Group employees.