Supporting Local Community Development
KIOXIA Group regards coexistence with local communities as part of our responsibility as a "good corporate citizen." Aiming to help realize a better society through "memory" technology, while engaging in dialogue with local communities, governments and public bodies, NPOs/NGOs, and academic organizations, we leverage our technologies, products, services, the expertise of our employees, and other means to address community issues. We focus in particular on energizing local communities in the areas where we conduct business, and on fostering human resources in the science and engineering fields.
At KIOXIA Group, the Human Resources and Administration Division oversees community engagement activities for our business units. We partner with local communities and conduct community engagement activities wherever we operate. We also encourage employee participation in social activities.
Local Recruitment and Business Support
KIOXIA Group helps to revitalize local communities by recruiting locally and conducting business with local companies.
Leave System Enabling Volunteer Activities
KIOXIA has introduced a long-term leave system to make it easier for employees take part in community engagement activities. They can use accumulated leave (a maximum of 25 days) for such purposes.
Fostering Scientists and Engineers of the Future
KIOXIA Group sponsors opportunities for young people who will lead the future to develop an interest in science, technology and manufacturing, as we believe in supporting those aspiring to become outstanding scientists or engineers. In FY2021, our community science lectures and workshops were attended by some 1,500 students from elementary school through to university.
Yokkaichi Science Seminar for Children
In August 2021, KIOXIA took part in the Yokkaichi Science Seminar for Children at the Yokkaichi City Cultural Center, which was held with the aim of raising children's interest in science.
In the seminar entitled "Science Experience – Yokkaichi, a City of Monozukuri" (the art, science and craft of making things), we offered a presentation called "What is Memory?" for roughly 60 visitors. Explaining how semiconductor memories work, we held a quiz about human memory. The excitement mounted as children enthusiastically answered the questions. Children particularly enjoyed the virtual reality (VR) simulation of a cleanroom in manufacturing facility. Many of them seemed genuinely curious, turning their bodies here and there with the VR goggles.
Outreach Classes at Yokkaichi Municipal Junior High School
Since FY2008, KIOXIA has been collaborating with Yokkaichi City to provide outreach classes as a part of students' career education. In FY2021, classes were held at Akatsuki and Nishi-Sasagawa Junior High Schools under the theme of "Working at KIOXIA." Students were taught about manufacturing processes and the types of work done in plants, and shown wafers and SD cards, which contain semiconductors. A few students tried on a cleanroom suits and experienced the cleanroom environment in virtual reality. Aiming to provide an opportunity for students to think about their own career options, we also held workshops covering issues our engineers tackle in practice.
Please click the link for more information about community engagement activities in the Yokkaichi Plant area.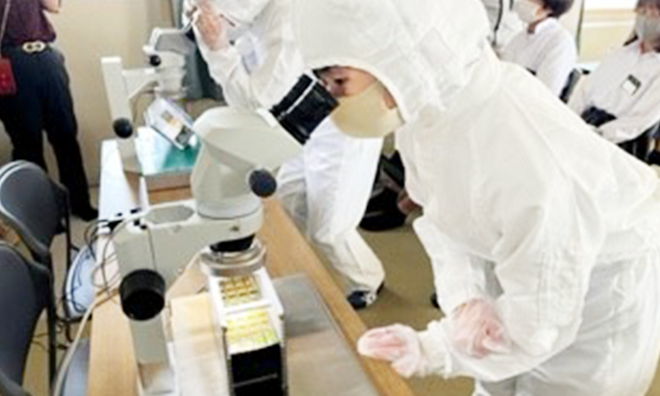 Participation and Career Counseling for Science and Engineering Pathways in Summer School for Girls in Junior and Senior High School
As part of our efforts to promote women's active participation in the workplace, since 2018 KIOXIA has taken part in a Summer School for Girls in Junior and Senior High Schools (Natsugaku),*1 one of Japan's largest events promoting science and engineering careers. In 2021, KIOXIA participated online in a "Poster and Career Consultation" event. Building on the concept of "The World is Filled with Memory," we gave a presentation about how flash memory works and the many ways it is used in our daily lives. KIOXIA female engineers also spoke about their own careers. The students asked questions such as, "I don't like mathematics; can I still choose science as my career?" and "Does the size of flash memories increase as their capacity increases?" along with other career counseling and memory questions.
We additionally received comments such as "The event helped people choose their career path, because now we know what subjects female engineers in advanced research and development excelled at when they were in high school, the reasons they chose their current job, and details about their work" and "It is interesting how memory products are used in so many different situations."
We will continue to give students the chance to experience the joy of science, engineering, and manufacturing, supporting the development of future scientists and engineers.
*1 Summer School for Girls in Junior and Senior High Schools (Natsugaku) is an event that aims to motivate girls to pursue science and engineering careers. It was sponsored by the Natsugaku Executive Committee (in 2018), the National Women's Education Center (in 2018, 2019), and since 2019 has been sponsored by the NPO STEM Career Path Project for Girls.
Educational Collaboration of KIOXIA Iwate Corporation with Iwate University
KIOXIA Iwate Corporation, the second manufacturing site of the KIOXIA Group, has been pursuing educational collaboration with Iwate University since 2019. In FY2021, the topics covered previously in public lectures were further developed, and lectures on semiconductors were held in multiple engineering departments. These lectures covered the history of the semiconductor industry, miniaturization technologies for logic devices and three-dimensional memory technologies, which are drivers of semiconductor technology,*2 The number of students taking these lectures has been increasing year by year, and the sessions feature lively discussions and questions.
We are considering expanding this initiative to other universities, KOSEN (colleges of technology) and high schools in the Tohoku region, to support the mutual development of industry and academia.
*2 Advanced processes and production technologies that are the driving force of next-generation devices and manufacturing technologies.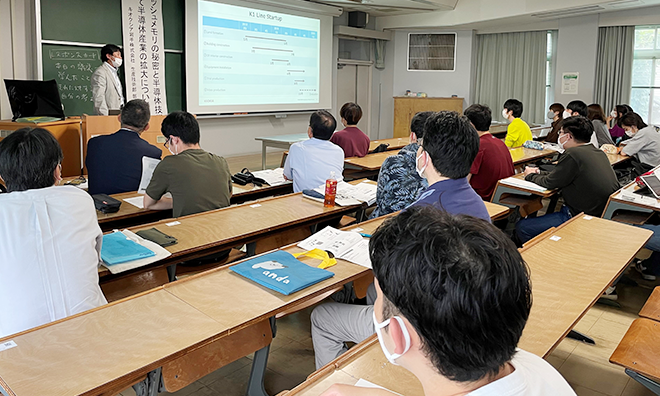 Educational Collaboration with Graduate Schools
KIOXIA hosts classes at graduate schools and other institutions to foster young scientists and engineers.
We have had a Comprehensive Collaboration Agreement with the University of Electro-Communications since FY2019, under which engineers are fostered through personnel exchange, and we collaborate on research activities. This initiative aims to promote semiconductor memory development and manufacturing technologies. In FY2021, one of our engineers conducted a lecture titled "Information Media System (Data Mining)" for approximately 100 Masters and PhD students at the University's Graduate School of Informatics and Engineering. We also held a lecture titled "Semiconductor Memories—Supporting Society (Evolution of Nonvolatile Memories)" at Nagoya University.
We aim to continuously nurture talented engineers, develop engineering as an academic discipline, and boost the semiconductor and other industries.
Creating Opportunities for Academic Interaction
Since FY2020 KIOXIA has participated in AI and the Advanced Programming Consortium (AIC) at the Keio University Global Research Institute.
A workshop (Ideathon*3) called "AI Application Idea Contest" was held in FY2021. Participating students competed by using familiar issues as subjects for their AI issues using "AI Map",*4 combining and applying AI technologies to resolve issues. Additionally, students learned how AI is applied in actual work by using the image generation software that is actually used at our company. A wide range of students participated, from undergraduates to those in doctoral programs; many of them commented that the workshop have provided them with a better understanding of AI technology and its application.

We provided a forum where participants could gain new experience and interact with each other to learn how AI can solve problems and create new value.
*3 Ideathon: An event where groups compete with each other to come up with ideas and solutions based on various themes.
*4 The Japanese Society for Artificial Intelligence "AI Map Beta 2.0" https://www.ai-gakkai.or.jp/resource/aimap/
Donations through Charity Walks: KIOXIA Europe
KIOXIA Europe organized two charity walks for employees in 2022, activities combining community engagement with health promotion. They started off at our office in Düsseldorf, in Germany, and walked along the Rhine, the country's longest river. Our employees really enjoyed the walk; it was a great opportunity to meet colleagues following a long period of home working. 43 of them joined the event and walked a total distance of 472 km. But enjoyment and health promotion were not the only purpose of the walk: Kioxia Europe sponsored each employee to the tune of two euros per kilometer and made a donation of 944 euros to "Action Medeor" for medical support in Ukraine.*5
*5 Action Medeor is a German non-governmental medical aid organization. It supports crisis areas in the world with medicines and medical equipment. Visit the link below for further details.
Helping to Feed the Community: KIOXIA America LeadHERs
In 2018 KIOXIA America established an internal organization called LeadHERs, whose goal is the education, enrichment and empowerment of women. LeadHERs also supports corporate community engagement events in partnership with Kioxia America's Community Relations team.  
In 2022 to date, KIOXIA America has held several community outreach events under the initiative of LeadHERs. In the first in-person LeadHERs event since the pandemic, members were able to get out into the community to help those in need. The group volunteered at Second Harvest Solutions Farm in Irvine, in the south of Los Angeles, picking and packaging cabbages. The nutritious food they picked helped feed those in need in the Orange County area. Second Harvest is currently providing around 600,000 meals to the needy every month.
Charity events at SSSTC's 2nd Anniversary: Solid State Storage Technology Corporation (Taiwan)
Solid State Storage Technology Corporation (SSSTC) held another charity fair in the 2021 Christmas season, following on from the previous year's event. SSSTC joined hands with eleven NPOs supporting disadvantaged groups, including the Children Are Us Foundation and Eden Social Welfare. Some 900 employees took part in this event. About 20 representatives of 170 elementary school students from three elementary schools in remote districts facing educational disparities were invited to SSSTC. Charlie Tseng, SSSTC Chairman & CEO, awarded scholarships to the children; the children showed off their singing talents and interacted with employees.
In addition, employees regularly purchase food and crafts made at these welfare facilities, and total donations this time amounted to about 5,400 US dollars; this sum was distributed among the NPOs to support disadvantaged groups such as children and the disabled.