KIOXIA group upholds and respects human rights as stipulated in our Standards of Conduct. We show respect for human rights aiming to become an enterprise trusted by society, and to contribute to the realization of a sustainable society.
Policy Governing Respect for Human Rights
KIOXIA Group recognizes that corporate activities based on respect for human rights are a prerequisite for the sustainable development of companies and of society, and has established respect for human rights as priority areas of focus in terms of ensuring the Group's medium- to long-term growth (sustainability materiality). In 2021, we formulated the KIOXIA Human Rights Policy in accordance with international standards, including the United Nation's Guiding Principles on Business and Human Rights, as a way to clarify our corporate responsibility to respect these.
KIOXIA Group is committed to respecting human rights in accordance with this policy. We also require our suppliers to respect human rights in line with this policy and with the KIOXIA Group Supply Chain Code of Conduct, which references the Responsible Business Alliance (RBA)*1 Code of Conduct.
RBA is a corporate alliance that promotes social responsibility within global supply chains.
Framework Governing Promotion of Respect for Human Rights
The Executive Officer in charge of personnel is assigned overall responsibility for ensuring awareness of human rights; we have additionally appointed a staff member with day-to-day responsibility for this within the Human Resources and Administration Division of KIOXIA Corporation. This Executive Officer oversees compliance with KIOXIA's Human Rights Policy. As part of this initiative, a taskforce has been established reporting to the Sustainability Committee; it works with relevant divisions and officers responsible for human rights at Group companies to promote human rights initiatives at these.
Assessment and Monitoring of Human Rights Risks
Human Rights Due Diligence
In order to respect the human rights of those who are affected by our business activities and throughout our overall value chain, KIOXIA Group has implemented an ongoing cycle of activities based on the UN Guiding Principles. These activities include identifying and assessing the scope of human rights abuse risks across our business activities; conducting prevention and mitigation measures; tracking, investigating and reporting issues; and disclosing relevant information.
Due Diligence in KIOXIA Group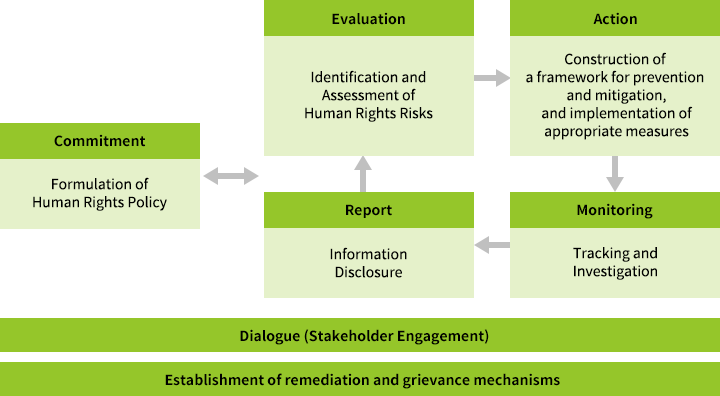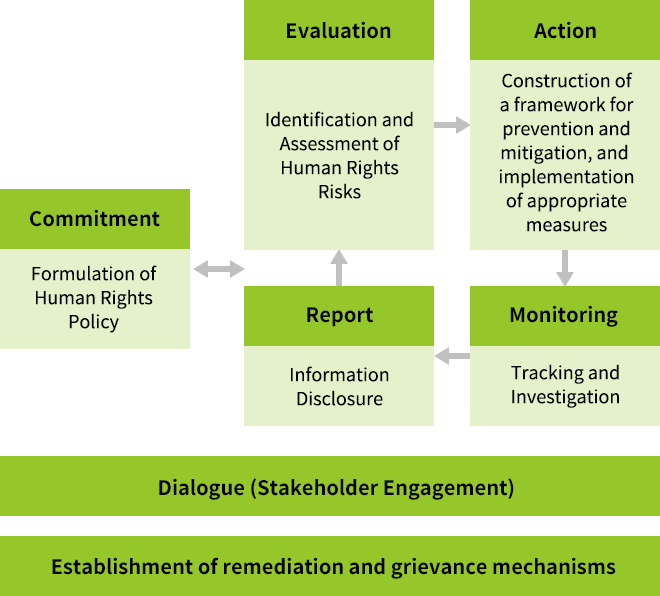 Assessment and Monitoring of Human Rights Risks
With the cooperation of outside experts, in FY2021 we conducted human rights risk assessments across our domestic group companies and identified the following risks that are characteristic of a semiconductor-related company operating globally.
From now on, to ensure that the human rights of all people affected by our business activities are respected, we will also be conducting human rights risk assessments at KIOXIA Group overseas. We will also make ongoing efforts to construct a framework for prevent and mitigate the negative impact of human rights risks identified through those assessments. Furthermore, based on the UN Guiding Principles, we aim to create an environment that facilitates consultations with stakeholders and prioritizes dialogue.
Potential Human Rights Risks in KIOXIA Group
Forced labor (including our supply chains)
Lack of employment for those with disabilities
Lack of consideration toward sexual minorities
Long working hours(including our supply chains)
Infringement of the rights of foreign workers (such as technical interns)
Harassment of workers

Occupational health and safety

COVID-19 related risk
Workplace accidents
Mental health problems

Negative impact on the living environment of local residents

Responsible conflict mineral sourcing (including the use of new rare metals)
Transactions with clients in countries where there are concerns about human rights abuses
Inadequate supplier education
Inadequate/dysfunctional grievance mechanisms (suppliers and contract workers)
Impact of product failures on end users
Leakage of technologies to countries that violate human rights or misuse of these in ways that infringe human rights
Impact of data falsification on product safety, etc.
Responsible advertising
Prevention and Mitigation of Human Rights Risks
KIOXIA Group observes and utilizes the RBA Code of Conduct as our standard for sustainability activities at manufacturing sites. We also encourage suppliers through such means as conducting sustainability surveys in line with the RBA Code of Conduct and surveys of responsible mineral procurement to ensure that human rights are respected within the value chain.
Prohibition of Child Labor
The Kioxia Group Standards of Conduct ban the use of child labor and forced labor and in order to help prevent this, we rigorously confirm by means of family registers and other sources that all those employed are at least 15 years of age.
Education and Awareness-Raising of the Need to Respect Human Rights
KIOXIA Group provides training on human rights and harassment issues to all employees once a year and during our staff onboarding process (for new graduates and mid-career hires) as part of our Basic Training and Development program.
In FY2021, a lecture titled "Business and Human Rights" given by an outside expert was hosted for Executive Officers, to deepen their understanding of issues such as changes in external environments affecting businesses and human rights, the efforts required of companies, and advanced case studies of other companies.
Moreover, we request our suppliers to make every effort to respect human rights in accordance with the standards of the KIOXIA Group Supply Chain Code of Conduct and the RBA Code of Conduct.
Establishment of Whistleblower System and Consulting Service
KIOXIA has set up a consultation center for employees and business partners to consult with and use for the reporting of any suspected violation of the laws and regulations of each country or region, the KIOXIA Group Standards of Conduct, or other internal rules or regulations.
Harassment Consultation Counter Whistleblower System for Employees
KIOXIA Group has set up a "Harassment Hotline" to address any reports of harassment—including power harassment and sexual harassment—from employees and others, and to prevent this from occurring or protect them from it. We ensure whistleblowers are not treated in a disadvantageous manner as a result of them having submitted their allegations.
Participation in External Initiatives
In FY2021, KIOXIA became a member of the CSR Committee of the Grievance Mechanism Working Group*2 at the Japan Electronics and Information Technology Industries Association (JEITA). We participate in discussions of the issues surrounding the operation of a common industry platform allowing access to remedies (grievance mechanisms), which is one of the pillars of corporate responsibility in terms of respecting human rights.
*2 One of the predecessor organizations of the Japan Center for Engagement and Remedy on Business and Human Rights (JaCER), which was established in June 2022.