Stakeholder interest in the management of risk in the supply chain is growing year by year. KIOXIA Group works together with suppliers to manage its supply chain responsibly, giving due consideration to such issues as the human rights of workers, working environments, occupational health and safety, and reducing the impact of our activities on the environment; not only in terms of our own company, but across all companies in our supply chains.
KIOXIA Group's Supply Chain
Procurement Ratio by Region (FY2020)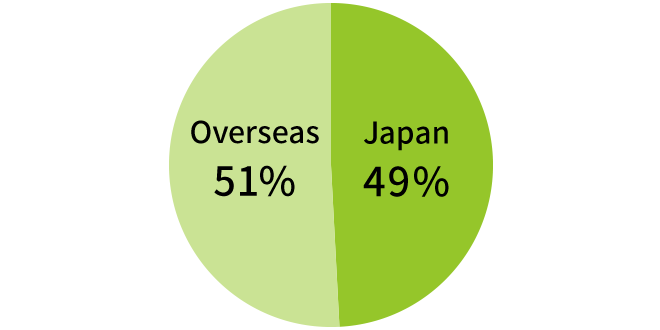 KIOXIA Group procures a variety of raw materials and resources from suppliers in many different countries and regions. In FY2020, we had relationships with more than 600 suppliers, and overseas suppliers accounted for 47% of our total procurement.
KIOXIA Group Procurement Policy
KIOXIA Group strives to promote sustainable procurement activities by means of complying with procurement-related laws and regulations and the social norms of each country or region and building sound relationships with suppliers based on mutual understanding and trust.
We require our major suppliers to agree to and implement the KIOXIA Group Procurement Policy, and we call for responsible business practices throughout our supply chains. In response to changes in the social environment and our business conditions, we revised the KIOXIA Group Procurement Policy and published a new KIOXIA Group Supply Chain Code of Conduct in August 2021.
Furthermore, we have formulated KIOXIA Group Green Procurement Guidelines applicable to environmental management, and the KIOXIA Group Responsible Minerals Sourcing Policy governing the sourcing of minerals, and have made all relevant suppliers aware of these.
Promotion of Supply Chain Management
KIOXIA Group has set up a dedicated planning organization within the procurement department at KIOXIA's Head Office. It promotes fair dealings with all our suppliers as well as CSR management across our supply chain.
The organization coordinates with various business divisions and related divisions such as the CSR Sustainability Promotion group and the Environment group.
Participation in Industry Groups and Initiatives
KIOXIA Group joined the Responsible Business Alliance (RBA) in July 2021 to fulfill our social responsibilities in such areas as human rights, labor practices, occupational health and safety, the environment, and ethics in our global supply chains. We carry out business responsibly in accordance with the RBA code of conduct (progressing with our own CSR activities and requiring that our suppliers do the same).
In addition, KIOXIA Group promotes the responsible procurement of minerals, participating in the Responsible Minerals Initiative (RMI), and the Responsible Mineral Procurement Study Group of the Japan Electronics and Information Technology Industries Association.
Assessment and Monitoring of Suppliers
When commencing business with a new supplier, among other things we first confirm whether the supplier's environmental management processes, process management, legal compliance, and management status meet KIOXIA Group transaction standards before we actually start conducting business with them.
Prior to continuing our business with an existing supplier, we use references such as the current scale of the business with them, but we also ask the supplier to conduct a CSR survey using the self-assessment format provided by the RBA (RBA-SAQ).*1 This method not only enables us to confirm the status of the supplier's CSR activities, but also facilitates rigorous management of our supply chain. Suppliers judged by the RBA-SAQ to be high risk are required to implement corrective measures such as undergoing an RBA third-party audit. In addition, we check the management status of suppliers' manufacturing sites through quality audits conducted as needed, and require improvements and provide support for initiatives as necessary.
*1 SAQ: Self-Assessment Questionnaire.   This incorporates questions about labor practices, occupational health and safety measures, the environment, ethics, and management processes. We use two types of SAQ: Corporate, which covers companies in their entirety; and Facility, focusing on individual factories.
Supply Chain Monitoring (FY2020, KIOXIA Group, Cumulative Numbers)
* Table can be scrolled horizontally.
No. of surveyed companies

Low risk
(No. of responses)

Medium risk
(No. of responses)

High risk
(No. of responses)
*2 CSR surveys aside from the RBA online survey (including surveys addressing topics other than RBA standards, such as Sedex/SA8000)
Responsible Minerals Sourcing
Since enaction of Section 1502 of the U.S. Dodd-Frank Wall Street Reform and Consumer Protection Act (the Dodd-Frank Act) in January 2013, KIOXIA Group, given its role in the supply chain of companies listed on U.S. stock exchanges, has investigated refineries in its own supply chain to confirm that tin, tantalum, tungsten, and gold (commonly known as 3TG) are not being used as a source of funds for anti-social forces in the Democratic Republic of the Congo or neighboring countries.
From March 2021, KIOXIA Group has been advancing the procurement of minerals based on the KIOXIA Group Responsible Minerals Procurement Policy. This stipulates that KIOXIA will not use as raw materials 3TG or cobalt obtained from the Democratic Republic of Congo and neighboring areas, or from other conflict- or high-risk areas where inhumane acts such as human trafficking, slavery, forced labor, child labor, abuse, or war crimes are suspected.
KIOXIA Group's Promotion of Minerals Sourcing
The Responsible Minerals Sourcing Working Group, incorporating members from relevant corporate divisions such as the head office procurement, technology and IT divisions, rigorously promotes activities and shares information on behalf of the KIOXIA Group in accordance with the KIOXIA Group Responsible Minerals Sourcing Policy. 
KIOXIA Group requires suppliers to conduct responsible sourcing of minerals, and we survey these suppliers regarding their use of minerals, as well as the details of their mineral smelters. In FY2020, for the 77 suppliers where there may have been a risk that 3TG minerals were being used, we requested them to conduct a survey using the Conflict Minerals Reporting Template produced by the RMI. We also require our suppliers to source minerals via smelters conformant to the Responsible Minerals Assurance Process and refiners certified under the Responsible Materials Initiative and 100% procured from refineries that are either RMAP-certified or are currently under audit.*3
Furthermore, following requests from our stakeholders, we added cobalt to the list of minerals surveyed from 2021, and commenced refinery surveys at 17 suppliers using the RMI's Cobalt Reporting Template.
*3 Includes one refinery currently undergoing RMI audit
Minerals Procurement Monitoring (FY2020, KIOXIA Group, Cumulative numbers)
* Table can be scrolled horizontally.
| | No. of surveyed companies | | Requests for corrective measures*4 | Corrective measures completed | Suspension of business, etc. |
| --- | --- | --- | --- | --- | --- |
| | | | | | |
| | | | | | |
*4 Request to suppliers to take corrective measures if they are procuring minerals from non-RMAP refineries
The KIOXIA Group aims for the realization of a sustainable society, as formulated in KIOXIA Group's Environmental Policy.
In support of this aim, we have formed a Green Procurement Working Group centered on our Environment, Quality Control and Procurement divisions. We have also formulated Green Procurement Guidelines aimed at ensuring compliance with the laws and regulations of each country and region and at reflecting customers' requests and other requests, and we periodically update these. The guidelines are based on our philosophy of reducing the environmental burden caused by materials procurement; they summarize our requirements governing the handling of hazardous chemical substances and are shared with our suppliers.
We also conduct a thorough assessment of the environmental impact of chemical substances in our components and products from the design and development stage and avoid wherever possible the use in our production processes of substances whose sourcing places a large burden on the environment, thereby striving to reduce our environmental footprint.
Through these initiatives, we will continue to collaborate with our suppliers and strive to manage chemical substances appropriately and to contribute to the realization of a better global environment.
Green Procurement Monitoring (FY2020, KIOXIA Group, cumulative numbers)
* Table can be scrolled horizontally.
No. of surveyed companies
(written, etc.)

No. of requests for corrective measures

No. of corrective measures completed

Suspension of business, etc.

Green procurement
(RoHS/Reach)

Green procurement
(Others)
*5 Survey of suppliers in conjunction with mandatory registration of Reach/SVHC in the European Chemicals Agency database SCIP
*6 Survey of and alert for suppliers regarding VOC regulations in China
Response to Supply Chain Risk
KIOXIA Group demands that our business partners and suppliers make improvements or otherwise respond appropriately in the event of them being found to have violated our stipulated standards for suppliers, or if there is a CSR risk identified in the supplier or supply chain, or if there is a new law or regulation requiring a response, or if there is some other reason. We will provide corrective guidance or support for such suppliers, but in cases where corrective measures are judged to be difficult, we will suspend business.
In FY2020, there were no cases of suspension of business with suppliers due to CSR risks. 
Securing Supply from the Supply Chain in the Business Continuity Plan
KIOXIA Group strives to engage multiple suppliers and to work closely with them to avoid interruptions to business in the event of emergencies such as earthquakes, other natural disasters, accidents, or pandemics.