Contributing to the Environment through Our Products
The NAND Flash Memories and Solid State Drives (SSDs) that KIOXIA Group supplies are integrated into a wide range of applications and used throughout the world. We are making efforts to reduce the environmental impact of our products throughout all stages of their lifecycle; this includes appropriate management of chemical substances used in their manufacture and ensuring the products themselves consume as little energy as possible when in use.
Given the recent boom in the use of AI, IoT and Autonomous Driving capabilities, there is a growing need to increase the capacity and speed of flash memory and SSD products. KIOXIA Group's further development of integration technology and the increased capacity resulting from this technology are allowing us to reduce the levels of CO2 emission per capacity. Specifically, this is being achieved by reducing the amount of electricity and materials per storage capacity output, and improving the energy consumption efficiency for processing one gigabyte when they are in use.
Furthermore, faster devices with even greater capacities will be required for 5G mobile communication systems, which are expected to become more widespread in the future. There is a concern that these will require even more electricity to operate. For this reason, we expect the use of our highly energy-efficient, large-capacity flash memory and low-latency SSDs to expand to various new fields. Thus, we are looking to provide more energy-efficient and higher-capacity products by developing advanced integration technology as our top priority, in order to contribute to the realization of a low-carbon society.
Examples of Fields in Which KIOXIA Products Contribute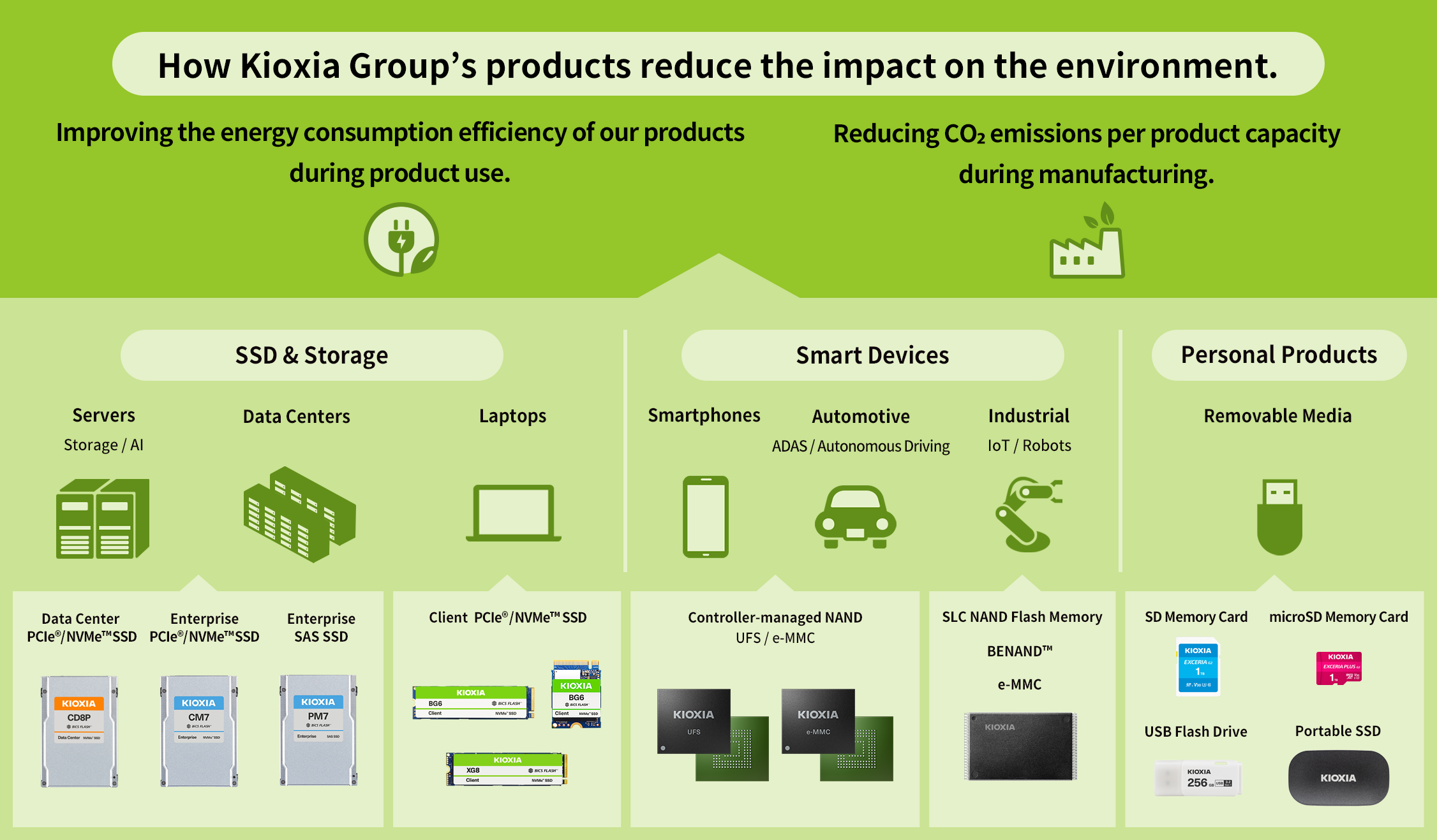 Targets for Improving Energy Efficiency of Our Products
The KIOXIA Group invented the world's first NAND flash memory in 1987. In 2007, the Group also announced its development of the world's first 3D flash memory technology.
The KIOXIA Group will utilize these advanced technologies to further improve the high energy efficiency of its products.
Specifically, we have set a high target of reducing the energy consumption efficiency for processing one gigabyte by 50% by FY2025 from the FY2017 level.*1
In FY2021, we successfully achieved a reduction of around 19% in the energy consumption efficiency for processing one gigabyte compared to FY2017 levels through higher speeds and the integration by advanced technologies in our NAND Flash memory, and by developing our own optimal controller design, thereby making considerable progress towards our FY2025 targets.
*1 In 2017, the memory business of Toshiba Corporation became a separate company, commencing operations as Toshiba Memory Corporation on April 1, 2017. The Company changed its name to KIOXIA Corporation in 2019.
Improvement in Energy Efficiency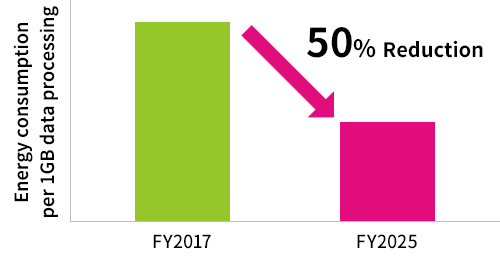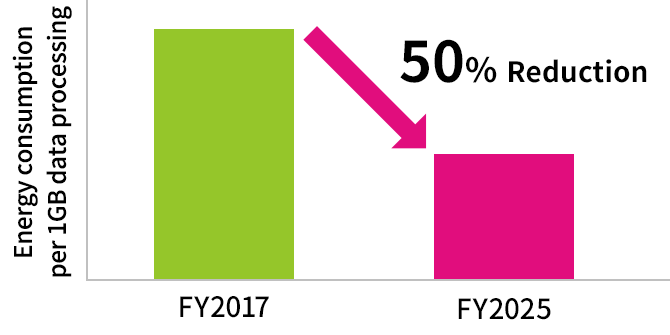 Case Studies: Improving Energy Efficiency during Product Use Embedded Flash Memory Devices Supporting UFS4.0
KIOXIA has developed embedded flash memory devices (UFS*2 products) supporting UFS 4.0. These products incorporate our fifth-generation 3D flash memory BiCS FLASH™ and adopt new controller which is supporting UFS 4.0 specification, improving the energy consumption efficiency for processing one gigabyte by approximately 9% during sequential reads compared to our previous generation products.*3
The sequential read and write performance of the 256GB device have improved by approximately 100 percent and 95 percent respectively, compared with the previous generation devices.*3 Both random read and write performance also improved by approximately 75% when compared to our previous generation products.*3
The demand for high-performance/large-capacity products has been increasing with the use of mobile devices and other applications that call for smaller, power-saving components, and the demand for UFS embedded flash memory is expected to grow.
By providing this product, which supports mobile applications, including high-end smartphones, KIOXIA is helping to develop devices that improve the 5G user experience as well as energy consumption efficiency in the system.
*2 Universal Flash Storage (UFS) is a category of embedded memory products built to JEDEC UFS-standard specifications. Its serial interface supports full duplexing, which enables both concurrent reading and writing between the host processor and UFS device.
*3 Kioxia Corporation's previous generation 256GB device "THGJFGT1E45BAIP"
The advertised memory on each Kioxia product is based on the on-board memory capacity, not the amount of memory capacity available for data storage by the end user. Since a portion of the memory capacity is used for memory management and other functions, the usable capacity will be less than that advertised; please refer to the product specifications for details.
Read and write speeds represent the fastest times recorded under test conditions at Kioxia Corporation; we are unable to guarantee the read or write speeds of individual devices in actual use. Read and write speed may vary depending on the device used.
All company names, product names and service names may be trademarks of their respective companies.
PCIe® 4.0-Compatible Compact Client SSD "KIOXIA BG5 Series"
We have developed the KIOXIA BG5 series of client SSD products, which incorporate a small  form factor for mobile devices and support high-speed PCIe® 4.0 interfaces.

The KIOXIA BG5 Series, equipped with our fifth-generation BiCS FLASH™ 3D flash memory, supports high interface speeds of 64 GT/s thanks to its PCIe® Gen4 x4 lane structure. It has been improved by approximately 50% maximum sequential read performance when compared to our existing PCIe® Gen3 x4 lane structure client SSD,*4 and its maximum sequential write performance is improved by approximately 60%. Furthermore, the energy consumption efficiency for processing one gigabyte of the 1024 GB product is approximately 15% improved during sequential read operation, and approximately 20% during sequential write operation.
In addition, adopting technologies such as virtual multiple Logical Unit Numbers (LUNs) and Host Memory Buffer (HMB), the KIOXIA BG5 Series provides a comfortable storage environment for notebook PCs and small mobile devices that require high-speed data processing.
KIOXIA's provision of this product is enabling the development of high-functioning, high-performance laptops and compact mobile devices with high-speed interfaces; the product also helps to improve the energy consumption efficiency of these devices.
*4 Compared to KIOXIA BG4 Series
PCIe is a registered trademark of PCI-SIG.
NVMe is a registered trademark or trademark of NVM Express, Inc. in the United States and other countries.
All other company names, product names and service names may be trademarks of their respective companies.
Management of Chemical Substances in Products
As part of our efforts to help achieve a sustainable society, KIOXIA Group endeavors to reduce the risks posed to people's health and to the environment by any chemical substances used in the manufacture of our products.
Environmental laws and regulations are being reinforced year by year in a number of countries and regions. By complying with these regulations and customer requests, we are doing our bit to reduce or eliminate the use of substances that may have a significant impact on people's health or the environment. Furthermore, to ensure appropriate oversight of chemical substances, we utilize monitoring tools and engage external consultants, participate in industry associations, and conduct periodic evaluations of the presence of any substances whose use is restricted or prohibited.

We have established a Green Procurement Working Group which has formulated KIOXIA Group Green Procurement Guidelines focused on our Environment, Quality Control, and Procurement Divisions. These Guidelines reflect matters such as the environmental laws and regulations of each country and region, as well as customer requests, and are shared with our suppliers and periodically updated.

Additionally, environmental impact assessments are conducted from the design and development stage of each product with regard to chemical substances used in products or their components, and we make every effort to use chemicals that have minimal impact on the environment within our manufacturing processes as well.