Contributing to the Environment through Our Products
The semiconductor memories and solid-state drives (SSDs) that KIOXIA supplies are integrated into a wide range of products and used throughout the world. We believe we can contribute to the realization of a low-carbon society by supplying large-capacity products and low-power-consumption products, and we are engaged in a number of initiatives to this end.
Amid the recent acceleration in the use of AI and IoT, there is a growing need to increase the capacity and speed of flash memory and SSD products. By promoting increases in the capacity of flash memory through the development of integration technology, KIOXIA is working to reduce CO2 emissions per capacity during the manufacturing and use of flash memory and SSDs. Specifically, we contribute to the reduction of CO2 emissions by reducing the amount of electricity used per unit of capacity and materials used when manufacturing, and by lowering the power consumption of our products when in use.
We believe that KIOXIA flash memories and SSDs will play an important role in the area of 5G (fifth-generation) mobile communication systems, which are expected to become more widespread in the future. Since faster, higher-capacity devices will likely be necessary in the 5G world, we envisage that the high energy efficiency, large-capacity flash memory and low-latency SSDs we provide will contribute to society in various fields. Thus, we are supporting the provision of higher energy efficiency and increased capacity by developing advanced integration technology as our top priority.
Examples of fields that KIOXIA products contribute to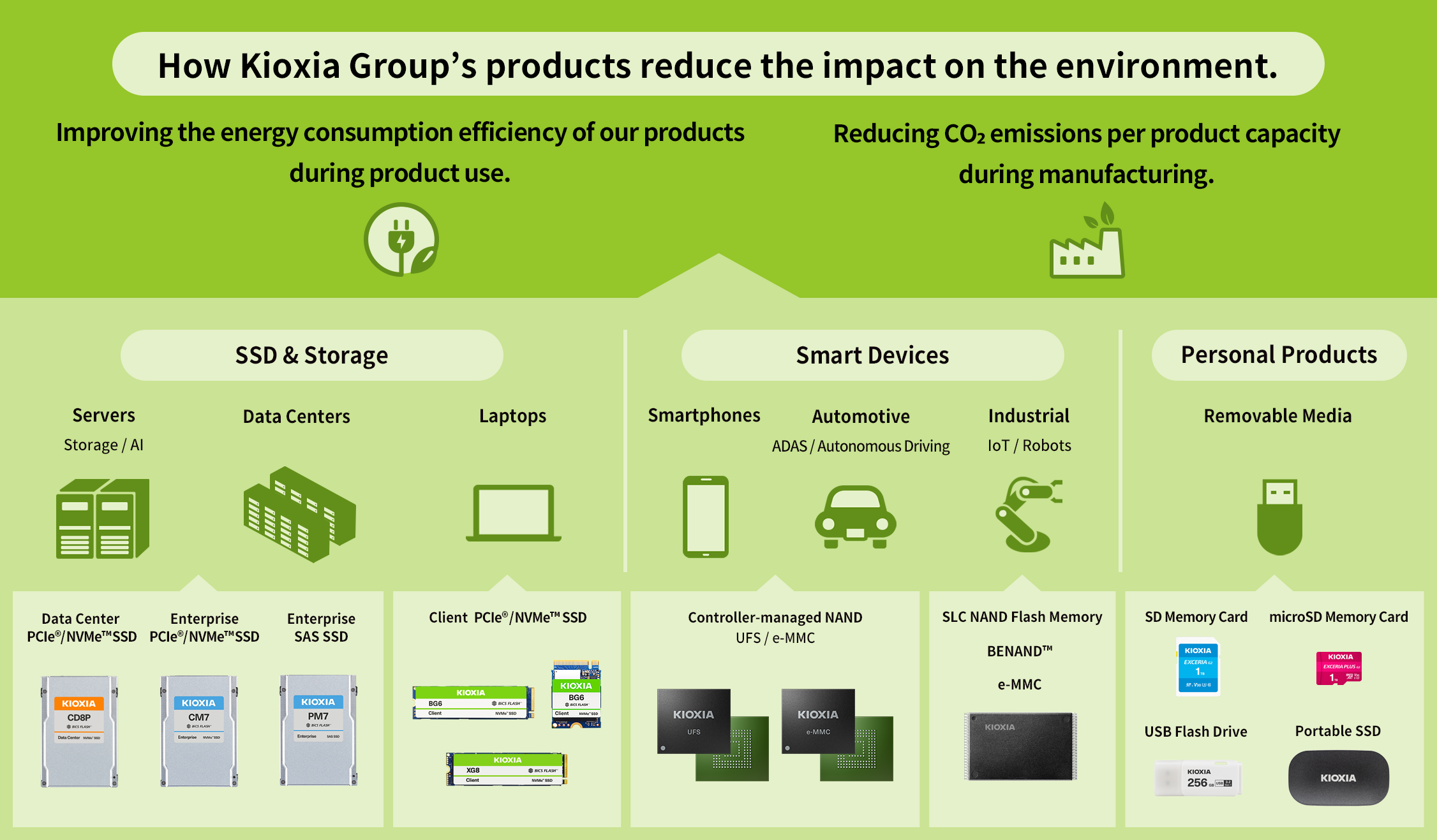 Targets for Improving Energy Efficiency of Our Products
The KIOXIA Group invented the world's first NAND flash memory in 1987. In 2007, the Group also announced its development of the world's first 3D flash memory technology.
The KIOXIA Group will utilize these advanced technologies to further improve the high energy efficiency of its products.
Specifically, we have set a high target of reducing the energy consumption per 1GB of processing by 50% by FY2025 from the FY2017 level.*
In 2017, the memory business of Toshiba Corporation was made into a separate company and commenced operations as Toshiba Memory Corporation on April 1, 2017. The Company changed its name to KIOXIA Corporation in 2019.
Improvement of energy efficiency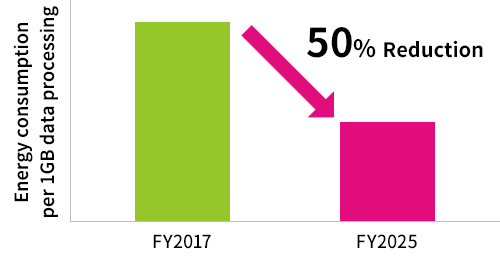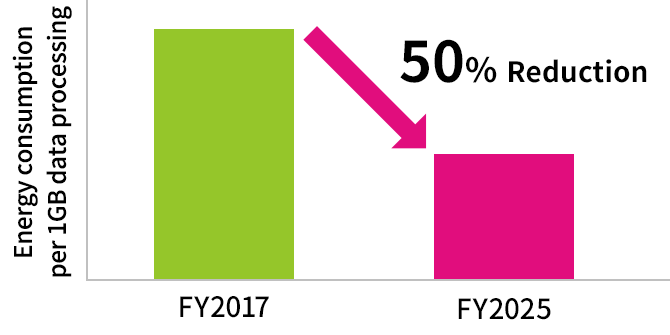 Product Case Studies:
UFS Ver. 3.1 Embedded Flash Memory Devices Are Thinner with Improved Energy Efficiency
KIOXIA has developed an embedded flash memory device (UFS product) that complies with Universal Flash Storage (UFS)1 Version 3.1 and offers higher energy efficiency in a thin package and improved sequential read performance compared to previous generation products, and can be used for mobile applications such as high-end smartphones.
UFS Ver. 3.1 embedded flash memory device (Image)
The UFS product comes in two different storage sizes, 256GB and 512GB, with respective heights of 0.8 mm and 1.0 mm, achieving the thin packaging required for mobile phone applications through optimized packaging design. Through this optimization, we were able to manufacture the 256GB product using about 30% less molding compound than the previous generation product. Moreover, by employing our 3D flash memory BiCS FLASH™ and a newly developed proprietary controller we have been able to improve the sequential read energy efficiency (energy consumption per 1GB of processing) by about 10% compared to our previous generation products.
Demand for UFS, an embedded flash memory, is also expected to grow in the future, as the need for higher performance and larger capacity is rising in a variety of applications that require small form factor and low power consumption, such as mobile devices.
UFS (Universal Flash Storage): Standard for embedded flash storage stipulated by JEDEC. Because it uses a duplex serial interface, reading and writing can be performed simultaneously between the storage unit and the host device.
The description of this product is based on the amount of built-in flash memory, not on the amount of memory available for use. As a portion of the memory is used as a management area, please refer to the relevant specifications for details of the available memory space (user area).
The above company names, product names, and service names may be trademarks of their respective companies.
Product Case Studies: KIOXIA PM6 Series Enterprise SSD
KIOXIA has developed the KIOXIA PM6 series enterprise SSD for 24G SAS interface-compliant servers and storage systems.
The KIOXIA PM6 series comprises enterprise SSDs that use a 24G SAS interface with about twice the transfer capacity of the 12Gbps SAS used in the previous generation KIOXIA PM5 series. As an SAS-compliant enterprise SSD, it has achieved a sequential read performance of a maximum of 4,150 MB/s and an industry-leading capacity1 of 30.72 TB2.
Moreover, for the 128KB sequential read, energy efficiency is about 93% better than the previous generation due to energy-saving through controller miniaturization and improved voltage control.
KIOXIA PM6 series: Enterprise SSD with improved energy efficiency
As of June 16, 2020, in the category of enterprise SSDs: KIOXIA Corporation survey.
Definition of capacity: KIOXIA defines a gigabyte (1GB) as 1,000,000,000 (10 to the power of 9) bytes, and a terabyte (1TB) as 1,000 gigabytes (GB). Some computer operating systems, however, report storage capacity using powers of 2 under a definition of 1GB = 1,073,741,824 (2 to the power of 30) bytes; therefore, they show a lower storage capacity figure for the same actual amount of storage. The available storage capacity varies based on file size, disk formatting, settings, software, operating system, and other factors. Actual formatted capacity may vary.
The above company names, product names, and service names may be trademarks of their respective companies.