Biodiversity Preservation
In Yokkaichi Plant, we are running a FloWA* project, whereby we fill the factory area with flowers to increase environmental awareness among the employees, and to create a more attractive and relaxing environment.
The 'WA' in FloWA incorporates numerous meanings derived from the Japanese character wa, which can denote a circle of friends, sharing, harmony, or laughter.
Transplantation event (November 2019)
Aware of the impact of our business activities on biodiversity, KIOXIA is engaging in a range of biodiversity conservation activities in order to reduce that impact and to enhance our contribution to society.
In March 2018 our Yokkaichi Operations signed a "Mie Biodiversity Partnership Agreement," forming an industry, government, and university partnership that aims to promote the owl protection project being undertaken by the Natural Study Group of Yokkaichi-Nishi High School in Mie Prefecture. Under this partnership, we will collaborate with others in the region to support the partnership's activities; these aim to help bequeath the region's rich natural environment to future generations by providing equipment used to observe owls in their natural habitat.
As part of this activity, we have installed items such as solar power generation systems, cameras, and solar panels, all designed by volunteer employees, to monitor the bird boxes set up by Yokkaichi-Nishi High School students in Mie Prefecture's Forest Park. This has enabled successful observation for three consecutive years since 2019 of owls nesting, raising offspring, and having them leave their bird box nest. Discussions between representatives of Mie Prefecture, Yokkaichi-Nishi High School, and our Yokkaichi Plant related to this activity were conducted and efforts made to further improve the observation environment.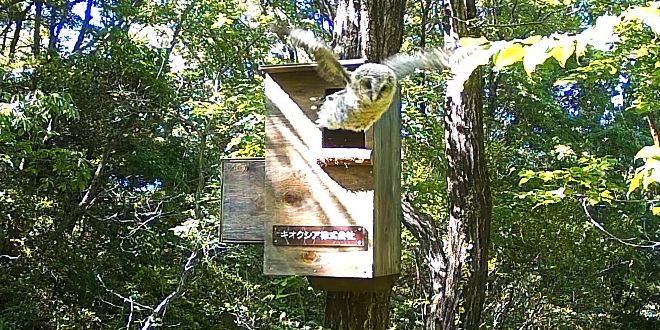 Achievements and future plans
Main accomplishments and future plans

Concluded Mie Biodiversity Partnership Agreement
Decided observation equipment specifications
Yokkaichi Plant employees installed and adjusted observation equipment
Started promoting the project internally and outside of the Company

Tripartite meeting reviewing FY2018 activities and formulating action plan for FY2019
Boosted observation equipment (added solar panels and batteries, updated cameras and HDD recorder)

Tripartite meeting reviewing FY2019 activities and formulating action plan for FY2020
Improved observation equipment (swapped out the HDD, switched power source inverter, dealt with communication irregularities by switching router)

Extended the agreement
Tripartite meeting reviewing FY2020 activities and formulating action plan for FY2021