KIOXIA Group treats initiatives addressing climate change as one of our most important management issues and aims to reduce greenhouse gas emissions and energy consumption both in terms of our business activities and our product lifecycles.
Regarding greenhouse gas emissions, we have installed abatement equipment in 100% of our targeted facilities since 2011, aiming to eliminate the emission of PFCs*1 with high global warming potential during manufacturing. We have additionally set the goal of reducing by 1% each year the previous year's total energy consumption (SCOPE 2: indirect emissions from business activities) based on a policy of reducing emissions through energy-saving activities in Japan in line with the Act on Rationalizing Energy Use (hereinafter, "the Energy-Saving Act"). 
Moreover, in FY2020 we formulated a long-term goal of ensuring that by FY2040, 100% of all energy we use will be from renewable sources.
During product development, we strive to incorporate features that will improve the energy efficiency of our products when they are in use. We also make every attempt to reduce greenhouse gas emissions throughout our value chain, by ascertaining the volume of these emitted by our suppliers, and taking steps to help reduce those.
*1 PFCs: Alternative to CFC gas used in manufacture of semiconductors. PFCs gas has high global warming potential.
Our Response to the Task Force on Climate-Related Financial Disclosures
In June 2021, KIOXIA Group announced our endorsement of the recommendations released by the Task Force on Climate-Related Financial Disclosures (TCFD).*2 We believe that accurately ascertaining the climate-related impact of our business, disclosing information to stakeholders and deepening mutual understanding are indispensable for sustainable corporate growth, and we proactively disclose information in accordance with the TCFD recommendations.
*2 TCFD: A task force established by the Financial Stability Board which devises methods to disclose climate-related financial information; an initiative to promote the disclosure of information related to climate-related risks and opportunities.
At Sustainability Strategy Meetings chaired by the President and CEO, executive officers formulate our company strategies and policies on climate change and check the level of achievement before submitting recommendations to the Board of Directors. The Sustainability Committee, chaired by the Executive Officer in charge of sustainability, discusses key themes and sets KPIs based on the strategies and policies formulated at the Sustainability Strategy Meetings. We also set up task forces reporting to these organizations to tackle important sustainability issues; they report on progress and confirm direction. In FY2021, scenario analysis, analysis of climate-related risks and opportunities, and strategies, metrics and targets were examined, based on the recommendations of the TCFD.
KIOXIA Group carried out an impact analysis of the effects of climate change on our business for each stakeholder and each business using two scenarios stipulated by the International Energy Agency (IEA) etc.: the 2℃ Scenario and 4℃ Scenario.*3
Under the 2℃ Scenario, we believe there will be a significant impact from government provisions and strengthening of regulations, as well as changes in the preferences of customers and other stakeholders. For example, we assume that there will be an increase in the costs associated with measures for reducing greenhouse gases emissions developed at manufacturing sites, and higher research and development expenses arising from the need to develop high-energy efficiency and high-capacity products.
Under the 4℃ Scenario, we project rising material costs and the emergence of physical risks to our company bases. KIOXIA Group has aggressively employed energy-saving and renewable energy measures to address these risks and is moving forward with product development processes that address the need for more efficient energy usage and other requirements.
*3 The 2℃ Scenario and 4℃ Scenario are common terms for climate-related scenarios depicted by the IEA and other organizations. Each scenario includes specification of the economic measures needed to suppress rising temperatures and the envisaged environmental damage in the event such increases in temperature occur.
Climate-Related Risks and Opportunities
KIOXIA Group assesses, as shown in the table below, the risks and opportunities arising from the external environment in 2030 under the 2℃ Scenario (2DS) assumed by IEA etc.
We recognize risks such as increased power supply costs resulting from the introduction of a carbon tax, and the cost of installing additional equipment to remove PFCs in line with an increase in manufacturing output. In addition, we are aware of physical risks, such as an increase in clean room air-conditioning costs as a result of a rise in outdoor temperatures.
In terms of opportunities, we envisage using less power and accordingly reducing our expenditure on power in our manufacturing facilities by promoting energy conservation.
To clarify the potential effects of climate-related risks and opportunities on business activities, a cross-division taskforce conducts detailed calculations of the   financial impact of these. These risks and opportunities, and their potential financial impact are reported at Sustainability Strategy Meetings or at meetings of the Sustainability Committee, where response strategies are discussed.
* Table can be scrolled horizontally.
External events
 
Risks
 
Opportunities
Attributes
Potential Financial Impact
Attributes
Potential Financial Impact
Introduction of carbon
pricing
 
(Transitional Risks)
Government policies, laws and regulations

Increased cost of power.
Soaring manufacturing equipment costs.
Soaring construction costs.

 
―
―
Strict and promotion of energy saving during manufacturing/Conversion to renewable energy
(Transitional Risks)
Technology

Increased cost of introducing PFCs gas abatement equipment to the new building.
Incurred cost of installing energy of renewable energy (solar power generators, etc.).

(Transitional Opportunities)
Energy sources

Reduce GHG emissions and enhance reputation through conversion to renewable energy.

(Transitional Opportunities)
Resource efficiency

Reduction of environmental load and running costs of the building during construction and post-construction.
Reduce costs through deployment of energy-saving production equipment.
Reduce costs by building efficient transportation systems and procuring materials with high resource efficiency.

Contribution to energy saving and efficiency/Improving environmental awareness
(Transitional Risks)
Markets
(Transitional Opportunities)
Products and services

Expand business opportunities by large capacity and high energy efficient product.

(Transitional Risks)
Reputation

Reputational risk and fundraising risk if response to our stakeholders is insufficient.

(Transitional Opportunities)
Markets

Increased customer trust levels due to strengthened BCP *4 leading to stronger branding power and higher corporate value.

Decreased demand for high carbon products
(Transitional Risks)
Reputation

Impact on business of GHG emission reduction requirements from customers.

(Transitional Opportunities)
Markets

Positive impact on business by responding to GHG emission reduction requests.
Increased corporate value and fundraising capabilities arising from strengthened ESG activities.

Stable supply of electricity
(Transitional Risks)
Technology

Unstable power supply due to expansion of renewable energy usage.

(Transitional Opportunities)
Energy sources

Stabilization of power supply by early securing power sources.

Operations halted
due to natural disasters
(Physical Risks)
Chronic

Extreme weather conditions, incurring suspension of operations, etc.
Supply chain stagnation, incurring suspension of operations, etc.

―
―
Water risk
(Physical Risks)
Acute

Operations halted due to inability to secure sufficient water supply.

―
―
Rising temperature
(Physical Risks)
Acute

Increased air-conditioning costs.

―
―
*4 Business Continuity Plan
Strategies, Metrics and Targets
Our strategy to avert climate change involves setting and meeting targets related to energy consumption, environmental impact, and our products. We review the degree of achievement of these at Environmental Management Review meetings held every six months. As mentioned earlier, with regard to energy consumption (SCOPE 2), we are promoting energy-saving activities with the stated goal of reducing the volume of emissions by 1% compared to the previous fiscal year. For details, please refer to Greenhouse gases emissions from our entire value chain and Efforts to adapt to climate change. 
Moreover, we have set the long-term goal of using 100% renewable energy by FY2040. By considering the creation of an energy portfolio that includes energy conservation activities and non-fossil certificates,*5 we will work to secure the optimal and stable procurement of renewable energy in line with our business expansion. We plan to install facilities that will allow the use of renewable energy in our factories, and to use carbon-neutral city gas in facilities.
*5 Non-fossil certificates: certificates that allow the trading of the environmental value of renewable non-fossil power sources that do not emit CO2 during generation.

Greenhouse gases emissions from our entire value chain
Greenhouse gases (SCOPE 1, 2, 3: CO2 equivalent) emissions from KIOXIA Group's business operations in FY2021 are shown in the chart below.
(Hyphenated cells indicate "not applicable," and we have not calculated "emissions generated during the use of products")
SCOPE 1 (Direct emissions)
| CO2 Emissions in FY2021 (t-CO2) | |
| --- | --- |
| | Direct greenhouse gas emissions from our own operations |
SCOPE 2 (Indirect emissions, electricity)
| CO2 Emissions in FY2021 (t-CO2) | |
| --- | --- |
| | Emissions associated with purchased energy supplies |
SCOPE 3 (Indirect emissions through supply chain, excluding those outlined in SCOPE 1, 2)
* Table can be scrolled horizontally.
| | CO2 Emissions in FY2021 (t-CO2) | |
| --- | --- | --- |
| 1. Purchased goods and services | | Emissions from activities up to the manufacturing of raw materials |
| | | Emissions from the construction and manufacturing of capital goods |
| 3. Fuel- and energy-related activities not included in SCOPE 1 or 2 | | Upstream emissions of purchased fuels/electricity, etc. |
| 4. Upstream transport and delivery | | Emissions arising from the transportation of products and waste in Japan (excluding overseas transportation and suppliers' transportation) |
| 5. Waste generated in operations | | Emissions from the treatment of waste |
| | | Emissions arising from employees' business travel |
| | | Emissions arising from employees' commuting |
| 8. Leased assets (upstream) | | |
| 9. Downstream transportation and delivery | | |
| 10. Processing of sold products | | |
| | | |
| 12. End-of-life treatment of sold products | | |
| 13. Downstream leased assets | | |
| | | |
| | | |
| | | |
Breakdown of emissions from SCOPE 1 (FY2021)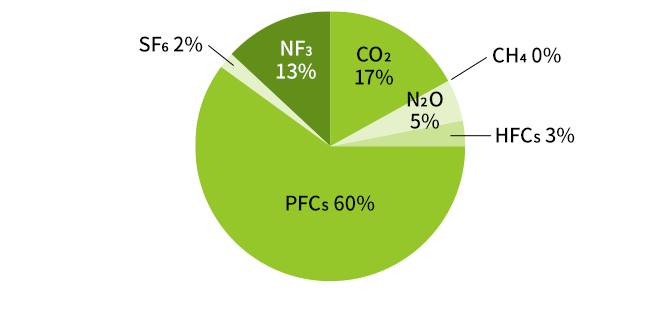 Result of energy consumption and greenhouse gases emissions from business operations
We plan and implement capital expenditure to secure the production capacity that will allow us to respond to the dramatic increase in the volumes of data circulating in everyday life. In so doing our energy consumption is on the rise.
The graph below shows KIOXIA Group's energy consumption and greenhouse gas (SCOPE 1 + 2) emissions. We are striving to achieve our goal of 100% renewable energy usage by fiscal 2040 through the purchase of non-fossil fuel certificates in respect of some of the electricity used at our Head Office and Yokohama Technology Campus, among other initiatives.
Volume of Energy Used (MWh)
The usage ratio of renewable energy in total energy consumption in FY2021 was 0.02%.
SCOPE 1 + SCOPE 2 Emissions (t-CO2)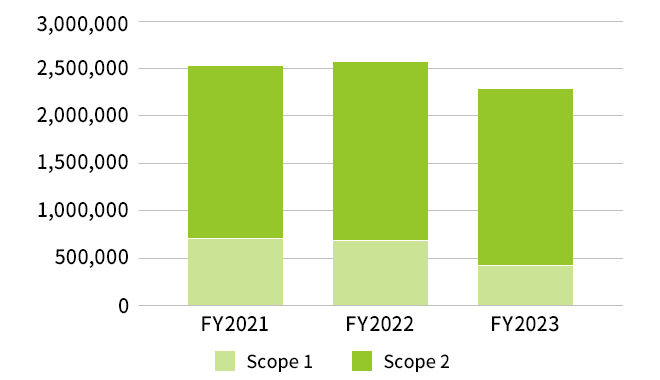 Efforts to adapt to climate change
KIOXIA Group in Japan is progressing with efforts to adapt to climate change in the course of our product development, the operation of our manufacturing sites, and the establishment of our supply chains.
In the storage market, the need for low-power consumption-type products is growing extremely rapidly, and we expect to expand sales opportunities by further developing these products. We have set a challenging target of reducing the energy consumption per 1GB processed by 50% from 2017 levels by FY2025. We are working on the research and development of more energy-efficient processes and increased capacity through the development of advanced stacking technology.
Please see below for details.
Operation of Manufacturing Sites
KIOXIA is proactive in the installation of abatement equipment to deal with PFCs – greenhouse gases with high global warming potential. The installation of 160 items of PFCs abatement equipment in FY2021 led to a reduction of 610,000 tons of CO2 emissions. From FY2011 onwards, we installed PFCs abatement equipment on 100% of the target facilities and reduced CO2 emissions by 3,770,000 tons over the four years between FY2017 and FY2021.
The contribution of PFCs abatement equipment to SCOPE 1 emission levels from FY2017 (t-CO2)
KIOXIA manufacturing sites have the stated goal of reducing energy consumption by 1% compared to the previous year's total energy consumption (SCOPE 2), based on the aforementioned Energy Saving Act.
In FY2021 we achieved our goal of reducing energy use through various energy-saving activities, recording an actual reduction of 29,652 tons of CO2 emissions per year against a target reduction of at least 23,313 tons of CO2 emissions. Over the past 11 years, the result of our energy conservation programs was a cumulative reduction of approximately 210,000 tons of CO2 emissions.
To promote energy conservation and efficiency at each facility, we endeavor to improve and incorporate new technologies while periodically addressing priority areas and assessing the progress of improvements. In FY2021, the Yokkaichi Plant identified 10 power-related items as priority targets. One example is the use of different pressure boosters to generate the high-pressure air required for semiconductor manufacturing.
By changing the boost method, we successfully switched to equipment that requires no power supply and has no exhaust, enabling a reduction of 109 tons of CO2 emissions per year.
As climate change continues in the form of global warming, damage due to river flooding is becoming more apparent every year. These events impact on the production of component manufacturers and logistics, and increase the risk of disruption to supply chains.  KIOXIA Group has targeted all business units with the drafting of business continuity plans (BCPs), and has established response processes that take account of a variety of risks, including natural disasters, throughout the entire supply chain. Under our BCP policy, we strive to be fully conscious of the status of our supply chains even at times of no disruption, and ensure we have multiple suppliers. Furthermore, we are making efforts to ensure we are able to swiftly assess the situation in the event of an emergency, and to minimize effects on the business at such times by means of a collaborative process designed to ensure the early recovery of services.
Taking Part in External Initiatives Related to Climate Change
KIOXIA is involved in the addressing of energy and global warming issues as a member of the Environmental Working Group of the Japan Electronics and Information Technology Industries Association (JEITA), a group representing the electronic device industry.
Since FY2020 we have been a supporting member of the Japan Climate Leaders' Partnership (JCLP), a corporate group that aims to achieve a decarbonized society. We have collaborated in measures aimed at achieving the 1.5℃ reduction target stipulated under the Paris Agreement, as well as in discussions about proposals to be made to the government. Moreover, following the announcement by KIOXIA Holdings of its endorsement of the TCFD in 2021, we are participating in the TCFD Consortium with effect from this year.
We will continue to devise appropriate measures to handle climate change, collect information by participating in these industry organizations, and make recommendations to the government in order to contribute towards the realization of a sustainable society.