Create Safe and Secure Societies and Environments
Evolving new memory technology solutions for social issues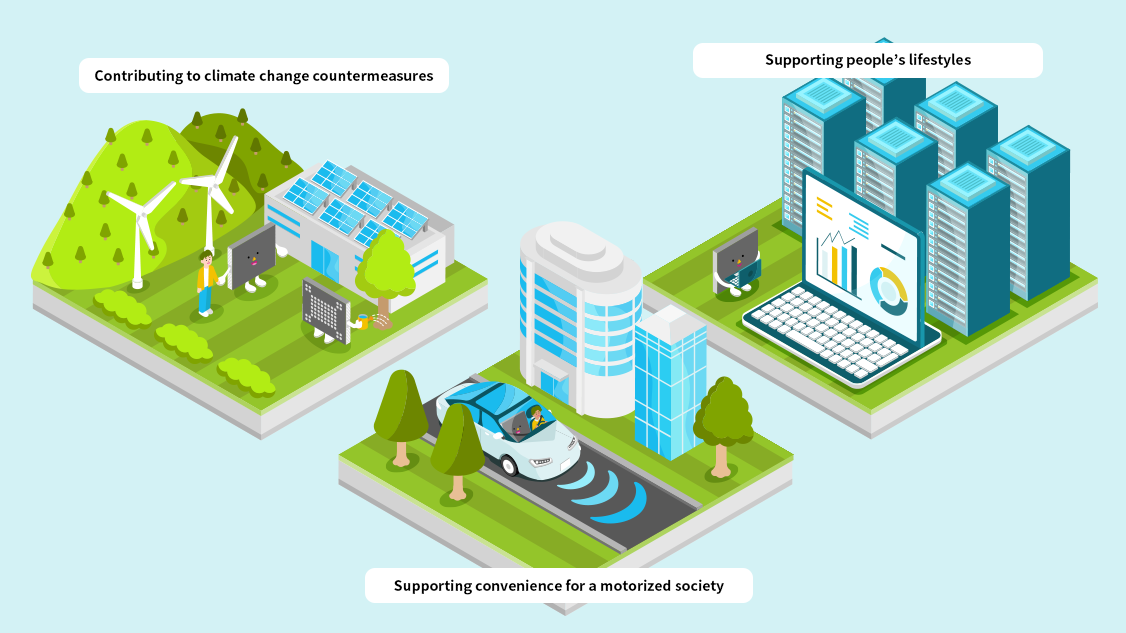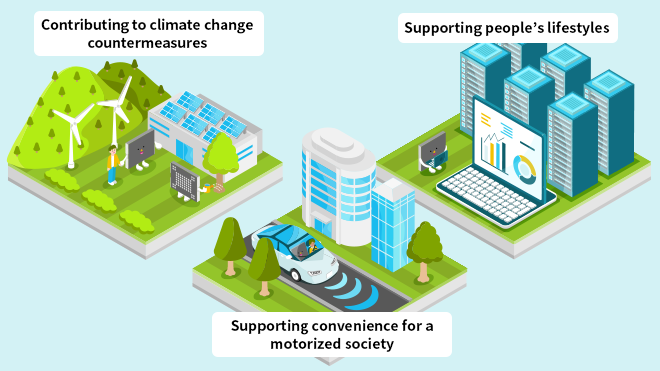 We deliver memory and SSD products
that contribute to resolving social and environmental issues
and help people live safely and securely.
We deliver memory and SSD products that contribute to resolving social and environmental issues and help people live safely and securely.
Our Contribution to Climate Change Countermeasures
Social Issues: The Digital Society and the Global Environment
With the evolution of a digital society, flash memory and SSDs are now being used in every aspect of life, and demand for higher capacities and higher speeds continues to increase. As digital products and services become more widespread, it has become necessary to reduce electricity consumption and CO2 emissions. Addressing this need has become a matter of urgency.

Contributing to the Environment through our Business Activities
At our Yokkaichi and Kitakami Plants, we are reducing our consumption of electricity and working to reduce the amount of chemicals and gas used during manufacturing by increasing productivity. We are also helping to reduce electricity consumption during the use of our products and services by making these more energy efficient.

KPIs: Improving the Energy Efficiency of our Products
Kioxia Group is striving to improve the energy efficiency of our products. Specifically, we have set the ambitious target of reducing the energy consumption per 1GB of memory processing in our memory and SSD products to 50% of FY2017 levels by FY2025.*

In 2017, the memory business of Toshiba Corporation was incorporated into a separate company, which commenced operations as Toshiba Memory Corporation. The company changed its name to Kioxia Corporation in 2019.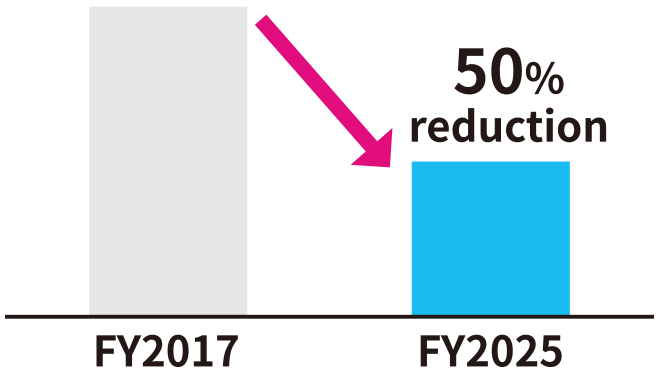 Energy consumption per 1GB of memory processing

Contributing to a Bright Future for a Motorized Society
Social Issue: The Convenience and Safety of a Motorized Society
With the advances in 5G, IoT and AI technologies, connectivity has extended to automobiles, which now make use of a wide range of data. Demand for data storage in vehicles continues to expand with the increase in complexity and sophistication of automotive equipment. In-Vehicle Infotainment (IVI) systems that provide traffic information and entertainment while driving and Advanced Driver-Assistance Systems (ADAS) are just two examples.

Helping Ensure Improved Automobile Safety and Convenience through Automotive Memory Solutions
Kioxia Group will help improve automobile safety and convenience levels with high-performance, high-capacity automotive UFS and e-MMC memory products that meet the sophisticated demands of in-vehicle use, such as reliability under a wide range of environmental conditions.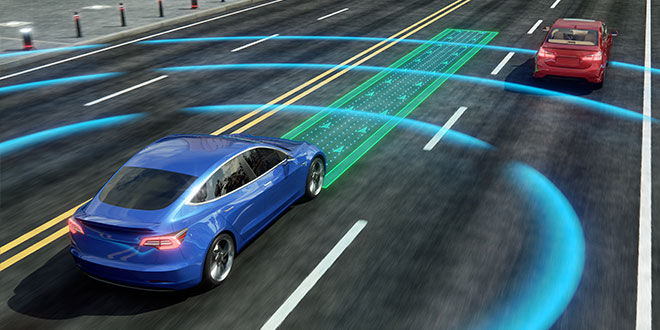 A microSD Memory Card with the Durability Required for Use in Dashboard Cameras
Kioxia Group is helping to improve drivers' convenience by providing products with sufficient durability for dashboard camera video recording.
As an example, EXCERIA HIGH ENDURANCE microSD memory cards featuring BiCS FLASHTM 3D flash memory technology have been specially designed for use in surveillance cameras and dashboard cameras.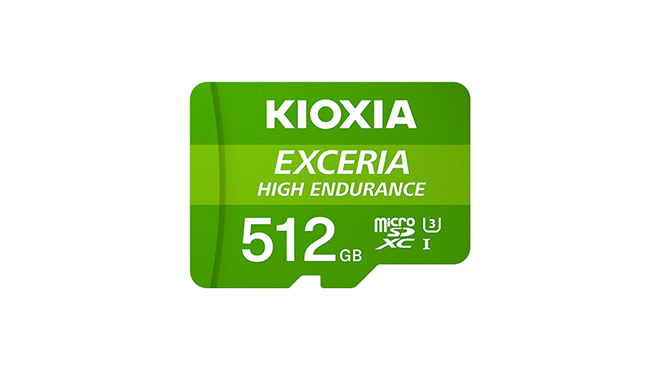 Contributing to Information Security
Social Issue: Security in an Increasingly Sophisticated Information Society
While the advance of digital technology and popularization of the internet have made daily life and the conducting of business more convenient, they have also increased the prevalence of information security issues.
SSD Security and Encryption Options for Diverse Needs
Kioxia Group is addressing the need for the protection of personal and business data in our enterprise-, data center- and client SSDs. As an example, in the event of laptop theft, an encrypted SSD can prevent important data such as customer information from being compromised.
Note: Optional security feature compliant drives are not available in all countries due to export and local regulations.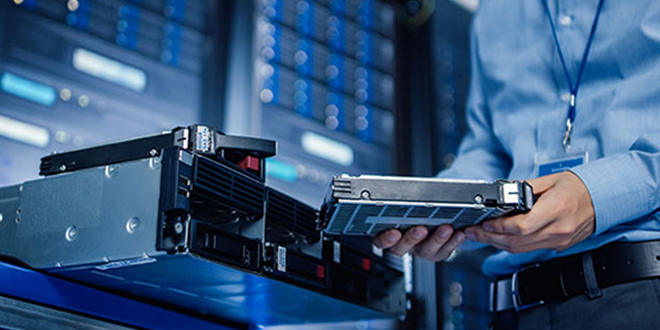 KIOXIA SSD × Sustainability - For a Sustainable and Green Future -
Introducing the collaboration between KIOXIA and NTT Communications on KIOXIA's SSD (Solid State Drive) products for a sustainable and green future.
KIOXIA is dedicated to handle ever-increasing data volumes by its data centers and the latest SSD / flash memory technologies and solutions for enterprise systems, while NTT Communications is committed to meet the demand for high-speed processing of complex workloads with its cutting-edge data center technologies and solutions.
In this video, you will learn about the initiatives by both companies to engage the "sustainability".

The Kioxia Group's contribution to the Solving of social issues through its business
Kioxia Group provides value of "memory" to society through products such as flash memory and solid state drives (SSDs). We will continue to contribute to the achievement of the SDGs through our business activities, with the aim of helping to create a more sustainable society.